Introducing EOSC-Nordic Knowledge Hub
We are delighted to present the first version of our new Virtual Competence Center, called the Knowledge Hub. The Knowledge Hub is built for our stakeholders:
Policymakers that coordinate national policies and legal issues in the context of the provision of services in a cross-border environment
Service providers and e-infrastructures for support and integration and interoperability of services with EOSC
Research communities and institutions focusing on e-Infrastructure services, FAIR data management practices across organizations, and hands-on use cases
Researchers that want to find the solutions developed by the project within research communities
We have strived to create a service channel that brings value and produces successful user experiences by providing users with a findable and easily accessible offering that meets their expectations.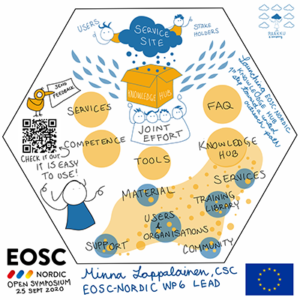 The Knowledge Hub is accessed via the project web page www.eosc-nordic.eu and consists of six elements: Materials, Users and Organisations, Training library, Services, Support, and Community. Each of these sections contains targeted content for stakeholders, making it easy for users to access the right information. The content can be further defined using keywords and topics. In addition to the offering, the Knowledge Hub also contains services that are easy to use and come with the necessary support. Support is provided on-line using several means to engage with the EOSC-Nordic community:
The interactive web tool, mapping contact points for specific competencies called Competence Map
Interactive web tool mapping Nordic infrastructure services. The map also serves as an entry point for service providers.
FAQs based on questions from service desk and Widgets
A network of experts from work packages handling requests from the Service Desk.
Training materials
In addition to all these features, we also invite our users to collaborate with us and share the outcomes of their use case or a success story that highlights how EOSC services and resources have supported their work using the site's contribute feature.