Data Science Seminar in Tartu, 6 October
On October 6, the participants of the EOSC-Nordic final event visited University of Tartu, the biggest and most prestigious university in Estonia, and gave presentations at the data science seminar, organized by the Institute of Computer Science. Data science seminars are usually held 4-5 times a year at the University of Tartu. These events are open to the public and aimed at a wide audience.
This time, the seminar was entitled "The art of handling sensitive and medical data". Medical data is considered sensitive data and is subject to particularly strict rules as this type of data can go to the very core of a human being. Nevertheless, processing of medical data is necessary in order to provide healthcare. The question of sensitive data security standards has become part of national policymaking world-wide.
The first speaker, Raivo Kolde (University of Tartu) provided an overview of Estonian health data landscape. He also introduced the OMOP Common Data Model, an open community data standard, which is designed to standardize the structure and content of observational data, and to enable efficient analyses that can produce reliable evidence.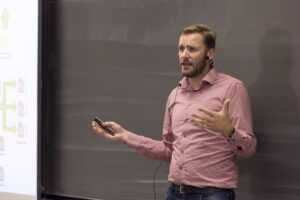 Image: Raivo Kolde. Photo by Henry Narits.
Liina Kamm (Cybernetica AS) presented some aspects of privacy-preserving data analysis, a crucial branch of data science that is recognised as an important problem within several research communities. It becomes more and more important to understand the interplay between different privacy-enhancing techniques and how they can be used in practice for data analysis.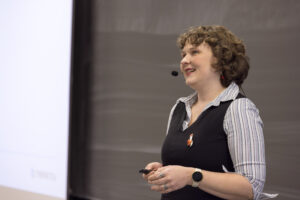 Image: Liina Kamm. Photo by Henry Narits.
Taavi Tillmann (University of Tartu) spoke on how to integrate big health and big social data in order to predict heart attacks better and reduce socioeconomic inequality. Although heart disease is 90% preventable, Eastern European countries have some of the highest rates of cardiovascular disease mortality. To improve the situation, heart disease screening services will be developed over the next few years.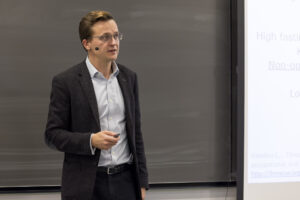 Image: Taavi Tillmann. Photo by Henry Narits.
The speech of Abdulrahman Azab (University of Oslo) focused on cross-border sensitive data access and processing. Data located in different countries are subject to different legislation, thereby impeding researchers from conducting their research. To facilitate biomedical research between countries, a state-of-the-art infrastructure is needed for the safe, efficient, ethical, and legal handling of sensitive personal data.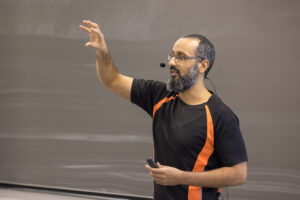 Image: Abdulrahman Azab. Photo by Henry Narits.
Finally, Stefan Negru (CSC) presented some experiences in developing technologies and standards that can be used to enable archiving, sharing, and reuse of sensitive data.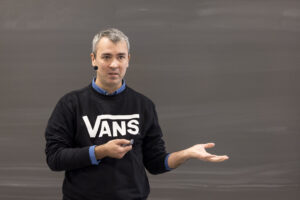 Image: Stefan Negru. Photo by Henry Narits.
Read more about data science seminars and watch the seminar recording.