DeepDive with firm network to support biodiversity research in the Nordics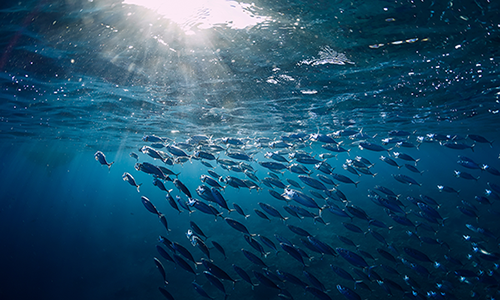 There are several different use cases in the EOSC-Nordic project, and DeepDive is one of them. Here you can learn more on the important work being done.

Many questions within biodiversity research and nature conservation inherently require easy access to biodiversity and ecosystem data. Although some of the Nordic-Baltic countries have developed their own Biodiversity and Ecosystem e-Infrastructures over the past decade, these national e-Infrastructures had reached different levels of maturity. It was therefore crucial to explore synergies in e-infrastructure development among different countries, and establish common services to support biodiversity and ecosystem research. In order to achieve these goals, a three-year project DeepDive (Deep relations in BioDiversity e-Infrastructures) was launched in 2017.
An interoperable, and service-oriented e-Infrastructure network
The term "biodiversity informatics" was coined around three decades ago. It refers to the application of information technology methods to the problems of organizing, accessing, visualizing and analyzing biodiversity data. The vision of DeepDive was to establish an e-infrastructure network consisting of Nordic and Baltic data centers and information systems. In this network the countries could host their national e-Infrastructures but connect data and expertise to provide seamless operating regional data services, tools, virtual laboratories and work towards a common biodiversity informatics community. The project was led by Matthias Obst from the University of Gothenburg's Department of Marine Sciences.
Strengthening ties in the biodiversity community
DeepDive did not start from scratch as strong ties between research institutes and biological data providers across Nordic borders existed already before 2017. For instance, the Swedish Species Information Centre and the Norwegian Biodiversity Information Centre shared a long history of cooperation. Moreover, the Nordic and Baltic Natural History Museums also have a long history of working together as part of the Global Biodiversity Information Facilities (GBIF). These existing collaborations were consolidated under a regional e-infrastructure network in order to explore generic processes such as increased interoperability between existing services, co-development, and transfer of technology. The project also focused on sociological and educational aspects by fostering personal contacts between developers and scientists.
Benefits for researchers and service providers
DeepDive has offered benefits in various aspects in fusing the national e-Infrastructures for biodiversity informatics. For instance, it has enhanced science by providing access to more data across country borders and across disciplines, training users and building a competent user support team. This will in turn give educational support for e-Science and strengthen the Nordic-Baltic science-policy interface. Sharing existing services in a common e-Infrastructure can lower development and operational costs. Moreover, the project has created awareness of the needs of the research community as well as the capabilities of e-Infrastructure providers. Intensive contacts between the research community and national e-Infrastructure providers will pave the way for future needs arising from Nordic and global socioeconomic-environmental challenges. Both researchers and service providers can learn and benefit from each other's experiences with e-infrastructures and open data.
Why should we care about biodiversity?
It has been said that biodiversity research resembles medical research: the scientists are the doctors and the environment is the patient. The services developed by the biodiversity informatics community enable us to better understand how biodiversity is responding to changes. Biodiversity refers to the enormous variety of life on Earth, from genes to ecosystems, and includes every living thing, from humans to microorganisms. Scientists have estimated that there are about 8.7 million species on Earth with 6.5 million species on land and 2.2 million in oceans. However, only around 1.2 million species have been described so far. All of the Earth's species work together to survive and maintain their ecosystems. Without biodiversity, our entire support system for human, as well as animal life, would collapse. Therefore, biodiversity protection should be seen as a cross-border and interdisciplinary effort, just like the fight to mitigate climate change.