International Data Week and SciDataCon 2022
20.-23.06.2022
Seoul, South Korea and online.
The International Data Week 2021 that was supposed to be held in November 2021 in Seoul, South Korea has been postponed due to the continuing global COVID-19 crisis. It is now scheduled for 20-23 June 2022. Associated events will take place in the period 18-26 June 2022. The conference will be a hybrid format with in-person in Seoul, South Korea as well as virtual participation.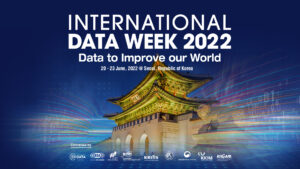 International Data Week (IDW) is a landmark event organised by the Committee on Data (CODATA), the World Data System (WDS) of the International Science Council (ISC), and the Research Data Alliance (RDA).
It brings together data scientists, researchers, industry leaders, entrepreneurs, policymakers and data stewards from disciplines across the globe to explore how best to exploit the data revolution to improve science and society through data-driven discovery and innovation.
IDW combines the RDA Plenary Meeting, the biannual meeting of this international member organisation working to develop and support global infrastructure facilitating data sharing and reuse, and SciDataCon, the scientific conference addressing the frontiers of data in research organised by CODATA and WDS.